I've done this before, so why am I shaking?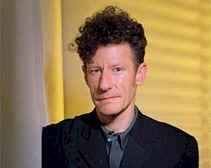 Announcing the 2nd semi-annual trek to
Wolf Trap
for
Lyle Lovett
this evening! While I'm super excited to see the show*, that's not quite what has my heart rate up.
It's the Whole Foods. I went there to gather picnicking materials (cheese, bread, fruit, and wine). I placed a pretty-labeled bottle of white in my basket and the next thing I knew, it shattered. I didn't hit anything or make any sudden movements and yet the bottle cracked and my legs took a bath in alcohol.
A fellow shopper came over to me and helped me pick up glass. He told me it wasn't my fault. That's very reassuring, but if it wasn't MY fault, he must've seen some sort of apparition swoop in and cause the mischief. He told me to keep shopping and not to worry about it. I followed his advice, mostly because I was all shook up and not in the mood to pay for wine I could only drink by licking the floor.
It looks like plastic Poland Spring bottles will be more my style for grooving to the Large Band. Would you have fessed up to an employee that you broke the wine?
* If anyone else in the DC blogosphere is heading to the Trap tonight, come on over to the red blanket with the clumsy girl on it and say hello.