The
Red Sox
will begin postseason play by facing their midwest mascot counterparts, the
White Sox
. I believe baseball to be the perfect game, but can't help but think this week's headlines will be even more fun than the games:
Slow feet, quick feet, well feet, sick feet
- All of them in S-O-X
After mixing colors in the washing machine of baseball, the CWS come out all pink!
**
You may remember that I shared a high school with Tre Arrow, the "eco-terrorist." The good news is that he's not the only well-known Fighting Tiger alumnus. Behold, New York Yankee pitcher Scott Proctor: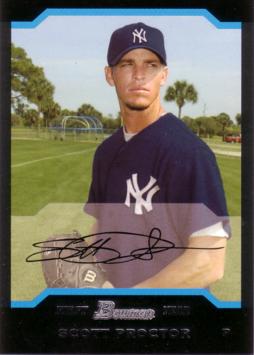 I had the tiniest moment yesterday afternoon when I cheered for the Yankees (of course, Boston was already guaranteed a playoff spot and was ahead by a good number of runs). Unfortunately, Scott gave up 3 runs in one inning, inciting unkind comments from the New York fans around me. I thought about each individual player's road to the majors for the first time. It's a really big deal to get there, and Scott has been on the spin cycle between the minors and majors quite a bit over the past couple of years. I imagine it's tough to bear some of the harsh Yankee fan brunt when his game's not "on" but I suppose when you ask for the major leagues, you ask for the pressure to go along with it! Good luck Scott!
*Also in high school news:
Thrown for a Loop
solicitations!